Please fill out the
registration form
  and email it to info@nbevents.gr or fax it to +30 2310 221408, mark for the attention of
"European Brewer Meeting Registration" / Mrs Christina Grimotsi.
Agenda and related documentation are bellow and also available here in the Onwcloud service.
| | |
| --- | --- |
| Meeting ID | ECOST-MEETING-ES1207-300114-036564 |
| Title | Core Group and WG1 Meeting |
| Start Date | 2014/01/30 |
| End Date | 2014/01/31 |
| Location | Hotel Excelsior,10 Komninon St. & 23 Mitropoleos Av. 546 24,Thessaloniki, Greece |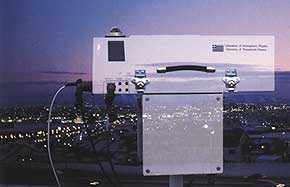 The Laboratory of Atmospheric Physics of the Aristotle University of Thessaloniki
Transportation from The airport to Thessaloniki City Center:
Bus No 78
Starts at the Arrivals Exit and runs every 30 minutes.
For hotels City, Excelsior and Tourist disembark at stop PLATIA ARISTOTELOUS.
More online information at:
http://oasth.gr/#en/routeinfo/list/61/12/73/
Please observe that you are looking for the return journey (green line) on the map.
The ticket (single route) costs 90 cents (when be issued from machines inside the bus (you need coins) or 80 cents when purchased from the ticket outlet at the bus stop (open 6.10-21.00). IMPORTANT: tickets purchased from the outlet must be validated when entering the bus.
TAXI at Arrivals Exit: Costs about 18-20 Euro, depending on traffic, time of the day, luggage.
Working Group 1 Workshop Agenda – Summary
8:45-9:00
Arrival Participants, Registration
9:00-9:10
John Rimmer
Introduction
9:10-9:30
Julian Gröbner
Aim of the workshop
9:30-10:00
Julian Gröbner
UV & AOD
10:00-10:20
Alberto Redondas
Ozone
10:20-11:00
Coffee Break
11:00-12:30
Break-up Groups (two or three)
12:30-14:00
Lunch
14:00-16:00
Feedback & Discussion
16:00-16:30
Coffee Break
16:30-17:30
Wrap up and next steps
End of Day
19:30
Joint Dinner
Core Group meeting Agenda
Welcome and opening remarks – John Rimmer
Review minutes of Manchester meeting – All
Eubrewnet and Horizon 2020 – Kaisa Lakkala
Summary of WG 1 meeting – Julian Groebner
Update on Training School – Alberto Redondas/John Rimmer
Update on Workshop – Alberto Redondas/John Rimmer
Update on RBCC-E and database – Alberto Redondas
WG 3 and WG 4  initial strategies – Veerle DeBock/Alkis Bias/All
AOB
Summary of decisions for MC vote – All
Related posts